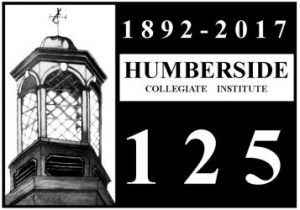 Humberside 125th   October 20th and 21st Information
Updated 6/12/17: Event Schedule Updated. 
Registration
The fee to register for the weekend will be $20. Includes admittance to the school on Friday evening and Saturday, and all events at the school. Those registering by Oct 10th will receive a commemorative tote bag filled with goodies.
Online Registration Instructions: Please click on the link below to register. Please note the Commemorative Yearbook order is first, followed by Registration, and commemorative items.  If there is more than one person registering, you can put both names where it asks for "student" when completing your order. For the T-shirt, pullover and zippered hoodies, you may order different sizes at one time, but if you would like to order more of the same size, please add your first order to your cart, then go back and add that size again and add to cart. You will see all your orders in your summary. The same applies if you would like to order more than one yearbook, mug or water bottle. Click and add your first order to your cart, then go back, add another and add to cart.
When completing your order, Grade represents the year you graduated. For staff, you may put in the years you were there, for example, 67-77. If there are more than one alumni with different names and graduating years, please complete your order with one year and email Jacquie to update your registration.
>>>> ONLINE REGISTRATION HERE >>>>

Late registrations and walk-in fees are $25.
Children under 12 are free with registered guests.
>>> PRINT AND MAIL IN REGISTRATION FORM  >>>
Name tags, commemorative tote bag, and pre-ordered items will be available for pick up during the weekend.
Commemorative Items
The following commemorative items will be available for PRE-ORDER ONLY. Items will not be available for purchase on the weekend. All pre-orders MUST be in by August 15th Orders will be available for pick up during the weekend. Orders will not be shipped.
Items include; mug, stainless water bottle, T-shirt, Zippered and pullover Hoodie, 125th Anniversary Commemorative Hardcover Book.  All items will sport the 125th logo. Some will also include the Humberside Crest.
Please see the registration order form for complete details.
REGISTER AND SHOP HERE
Name tags, commemorative tote bag, and pre-ordered items will be available for pick up during the weekend.

Hours (Tentative schedule; times/events may change, please check closer to the weekend for confirmed times)
Friday 5pm to 10pm
Registration 5pm
Decade Rooms open from 5 to 10pm
Reunion Choir Concert 7pm. Free admission with registration
Saturday 8:30 am to 5pm
Registration starts at 8:30am
Decade Rooms open at 9am
Welcome Ceremony 11am
Sports event in main gym. Time TBA
Art Displays in Cafeteria 9am to 5pm
Refreshments in Cafeteria Time TBA
School Closes at 5pm
Pub Night,   Saturday, October 21st  6pm to 2am
Fee: $15 You must be a registered attendee in order to buy tickets. They will not be available at the door.
A registered guest may add a plus one for the pub night. (This option allows a registrant to add a guest for the pub night only, e.g. spouse, who may not want to attend the other events)
  Finger food included with ticket. Cash bar. 19+ event.   Doors open at 6 pm until 2am
Lithuanian House  1573 Bloor St. W.    Wheelchair accessible   https://www.lithuanianhouse.ca/
125th Anniversary Commemorative History Book: Humberside Life Through the Years
As part of Humberside's 125th anniversary, the Alumni Association, with the assistance of Humberside students and staff, will be producing our 125th Anniversary Commemorative History: Humberside Life through the Years. This book will be a 125th Anniversary snapshot of as many Humberside memories as can be fit between its covers.
We are appealing to you, members of our alumni community, to help us gather content for this very exciting publication. The range of things we're looking for is almost limitless: photographs of any aspect of your years at Humberside, fascinating documents (posters, flyers, artwork, an old report card, ticket stubs etc. etc.), recollections (these can be submitted in a document format, or we can set up an interview with you and transcribe it). These recollections can be accounts of memorable Humberside events and figures, moments in school history, daily life in the halls and classrooms through the years. The list of potential material is limited only by the range of the items you submit.
So dig up those scrapbooks, those old folders stored in the backs of closets, the bottoms of drawers, and help us fill the 125th Anniversary Commemorative History with your memories.  Deadline for submissions is now Mid-MAY. Scans and documents can be emailed to us at hci125th@gmail.com    Questions about the book and the kind of material we're looking for can also be submitted using the same address.  If you prefer to use Canada Post, the school address is:
Att'n: Karen Maguire/Tim Prior
Humberside CI   280 Quebec Ave   Toronto, ON  M6P 2V3
Reunion Choir
Ah the classics, Zadok the Priest, Bridge over Troubled Water, and how could you forget Hallelujah Chorus and of course our famed HCI fight song!
"Those were the days my friend…." If you would like to re-live those days of singing and want to join the reunion choir at Humberside's 125th Anniversary celebrations, please email Miss Janet Keele at d_thomas@sympatico.ca and let her know. Please include your maiden name if applicable and what part you sing ( soprano, alto, etc.) At this time practices will be later in 2017.
Decade Rooms
Do you remember what life was like when you went to Humberside? Forgot?  Well we want to jog your memory by setting up decade rooms for the 125th. Each room will showcase a decade and its Humberside memories and we need your help! Volunteers are needed to organize room content, help with setup for the weekend and supervise the room during the weekend for an hour or so. We are also looking for any memorabilia you have that you are willing to donate or lend to the alumni. If you are interested in any aspect please email Doug Wighton at iwndry@hotmail.com   placing Decade room in the email subject line
 Volunteers Needed
We will need volunteers for several areas prior to and during the weekend. If you would like to volunteer please email Jacquie Raidl at jacqr@sympatico.ca
Volunteers will be needed for putting together the welcome bags before the weekend, during registration, guides at the school, decade room supervisors and general help. An hour or two of your time is appreciated.
For Decade room volunteers email Doug Wighton at  iwndry@hotmail.com
To be a part of the reunion choir email Janet Keele at d_thomas@sympatico.ca
Event Sponsorships Available
Follow this link to the complete information packet and downloadable form.  HERE
Logo Deadline August 31, 2017
Hotel Information
For those out of town guests, several hotels have blocks of room set aside for the weekend.
LIMITED NUMBER OF ROOMS AVAILABLE for Thursday, October 19, Friday, October 20 and Saturday, October 21, 2017.Quotes are for SINGLE/DOUBLE occupancy. First-come, first-served basis.
FINAL CUT-OFF DATE: Friday, September 1, 2017.
CALL HOTELS DIRECTLY TO BOOK and for services available (e.g. Airport shuttle, WIFI, group parking discounts, etc.)
1) HOLIDAY INN
970 DIXON ROAD (@Hwy 427)
416-675-7611
BOOKING CODE: HCI
* Standard two (2) doubles….$119/night + taxes
2) DELTA-MARRIOT (formerly SKYLINE and INTERNATIONAL PLAZA)
655 Dixon Road (@ Hwy 27)
416-244-1711
BOOKING CODE: HUM_003
* Deluxe queen….$129/night + taxes
3) HOLIDAY INN
600 Dixon Road (@ Martin Grove & Hwy 401)
1-800-491-4656 or 416-240-7511
BOOKING CODE: HUM
Two (2) queen or one (1) king….$115/night + taxes
There are also several Bed and Breakfasts in and around the area. Search the www.airbnb.ca  website for accommodations.
Facebook page
The facebook page for the 125th is https://www.facebook.com/groups/219791771544317/