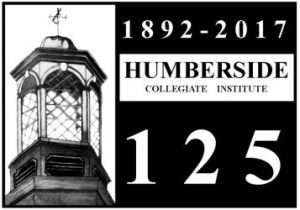 Online registration is now closed. Walk-in registrations will be available throughout the event. ($25 pp)   Please note: the Friday night Choir performance and the Saturday Pub Night are SOLD OUT.

Schedule of Events
Friday, October 20th
Registration Opens  5 PM                                                                                            Decade Rooms Open  5 PM to 10 PM  (Rooms on the Second Floor See map in program)
Reunion Choir in Lismer Hall  8 PM   AT CAPACITY – (Advance registration was required.)
School Closes  10 PM
Parking: See Below ***
Saturday, October 21st
Registration starts   8:30 AM
Decade Rooms Open   9 AM (second floor)
Welcome Ceremony in Lismer Hall   11 AM
Gerryball Tournament Saturday 2 pm in the Lower Gym**
Art Displays in Cafeteria   9 AM to 5 PM
Refreshments in Cafeteria Time TBA                                                                                                                                                                                     
Some HCI items will be available for purchase in main foyer & Cafeteria                          Library, Music Wing, Staff Room, Hallways all open from 9 AM to 5 PM
Lismer Hall open for viewing AFTER the welcome ceremony
School Closes at 5 PM
PUB NIGHT SATURDAY OCTOBER 21ST SOLD OUT
(Prior registration and payment were required. )
Please wear your wristband (provided in your registration packet); it's your entry ticket
6 PM to 2 AM Lithuanian House 1573 Bloor St. W. (at Dundas)
Wheelchair accessible  www.lithuanianhouse.ca
Finger food included with ticket.
Cash bar (there is an ATM at The Crossways on Dundas north of Bloor). 19+ event.
Live band, "The Release" will perform starting at

11 pm

.
 Pub Night Transportation/Parking:
By foot (best)
Taxi/Uber
Public Transportation

 Bloor Subway – Dundas West Station
 UP Express – Bloor Station

Drive if you must (but

be responsible!

)

 PARKING

 On the street (usually free after 6 pm)
Lithuanian House lot (north on Dorval Road)
Loblaws/LCBO lot on Dundas south of Bloor
Shoppers Drug Mart/Freshco Lot on Dundas north of Bloor
Keele Subway lot on Bloor west of event
++++++++++++++++++++++++++++++++++++++++++++++++++++++++++++++++
**Gerryball Tournament Saturday 2 pm in the Lower Gym
There will be a basketball scrimmage using the Gerryball format, 5 on 5, the first team that scores a certain number of baskets, stays on and a new team of 5 challenges them. Repeat. This is a game developed by our fabulous lifeguard, Gerry McGraw, in his 40 years of providing a format for ex-Humbersiders and friends to continue to play after graduation on Monday and Wednesday evenings. Some of those ex-Humbersiders will be playing and are invited to show up.
++++++++++++++++++++++++++++++++++++++++++++++++++++++++++++++++
***School Parking
Parking at the school is best on High Park Avenue, The Annette Recreation Centre off of the school, residential streets around Western Tech are generally less occupied. Parking at Western Tech underground parking is also available. Highly recommended is the TTC, with stops at Jane Station talking the DUPONT 26 and getting off at Clendenan Ave. Another option is the Lambton 30 bus from High Park Station which stops at Humberside Ave across from the school.You may park at most TTC stations and enjoy a hassle-free ride to the event.